Remember, you can subscribe to all your favorite teams for game and practice updates! Check out appleknockerathetics.com

Today's high school baseball and softball games have been rained out

Today's high school track meet at West Frankfort has been canceled. A decision on baseball and softball games will be made at 1:00

The cause chosen by the Cobden Youth & Community Advocates (CYCA) to raise awareness and funds for this year is Anna PAWS. We will hold a district-wide Purple Out For PAWS on Tuesday May 2nd. T-shirt forms are due to the school office by 3 pm Wednesday April 12th. Orders may also be placed through the online store, which closes April 11th. Link to store-
https://shopsilkworm.com/cobdenhspaws
Proceeds from the t-shirts will go toward supporting the PAWS animal shelter in Anna. We'll take a large group picture in our purple with some cute pets from the shelter the day of the purple out, and try to help get the pets adopted.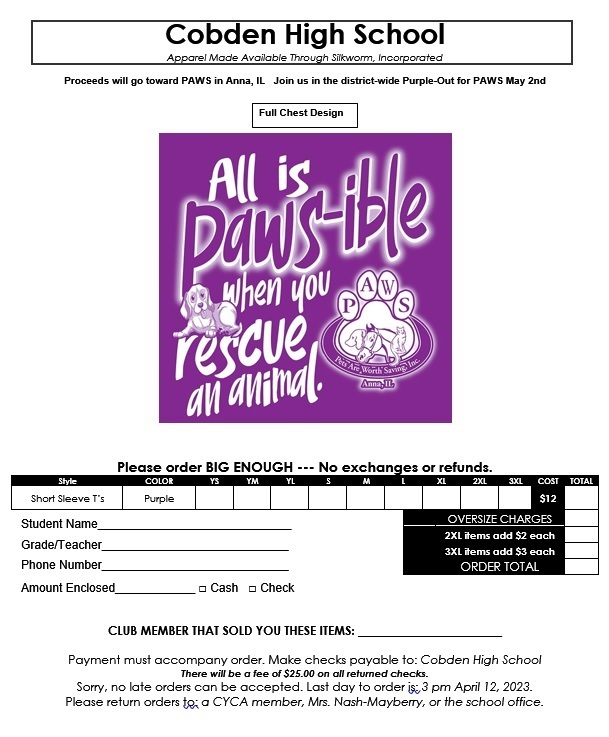 High school staff completed a team building challenge today. Prepared by Mrs. Engelmann and Mrs. Reiman…it was a slay!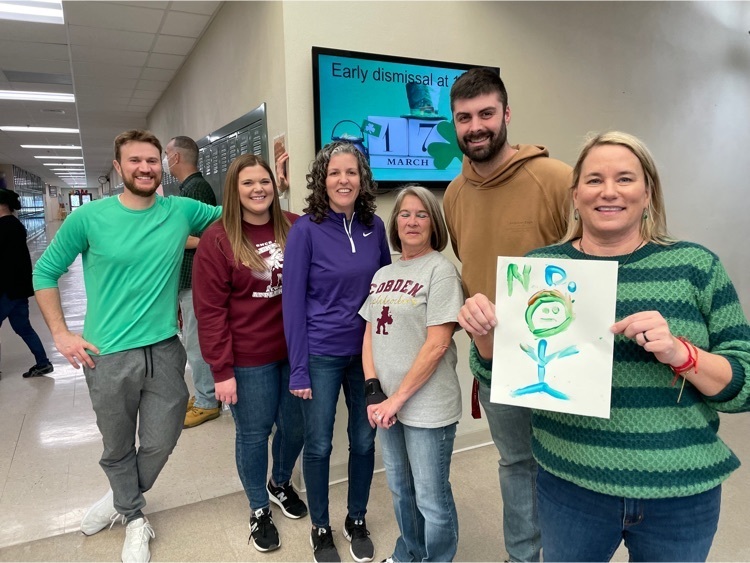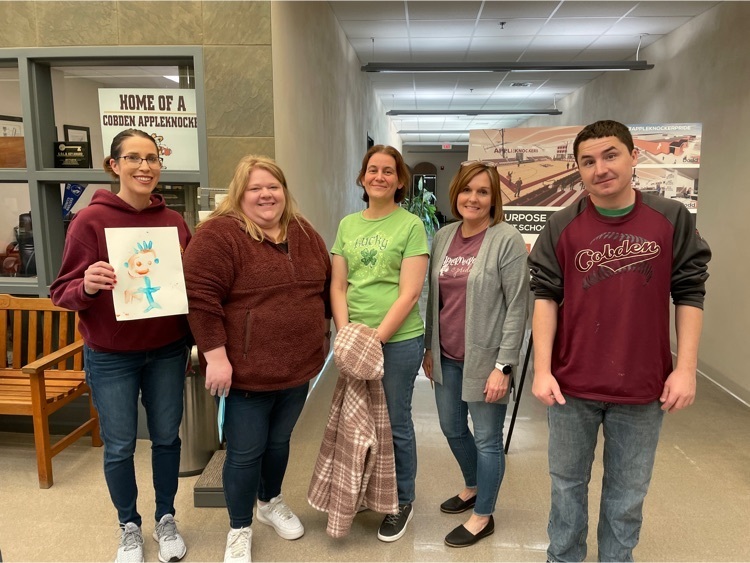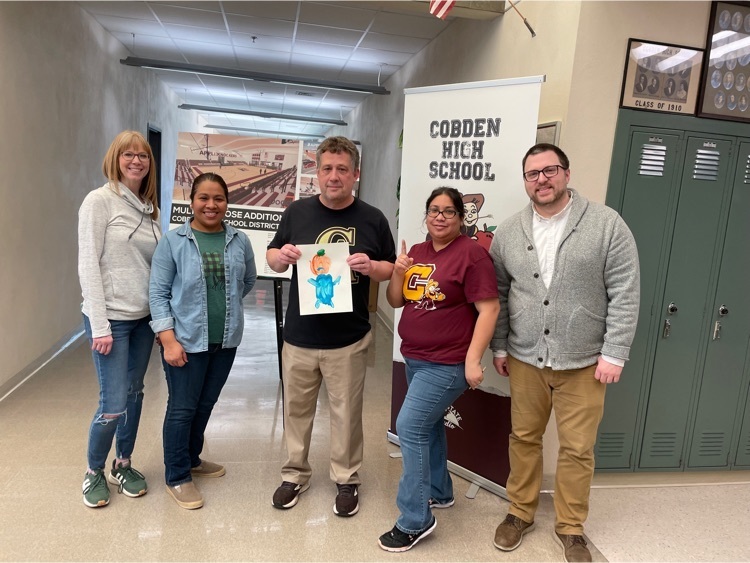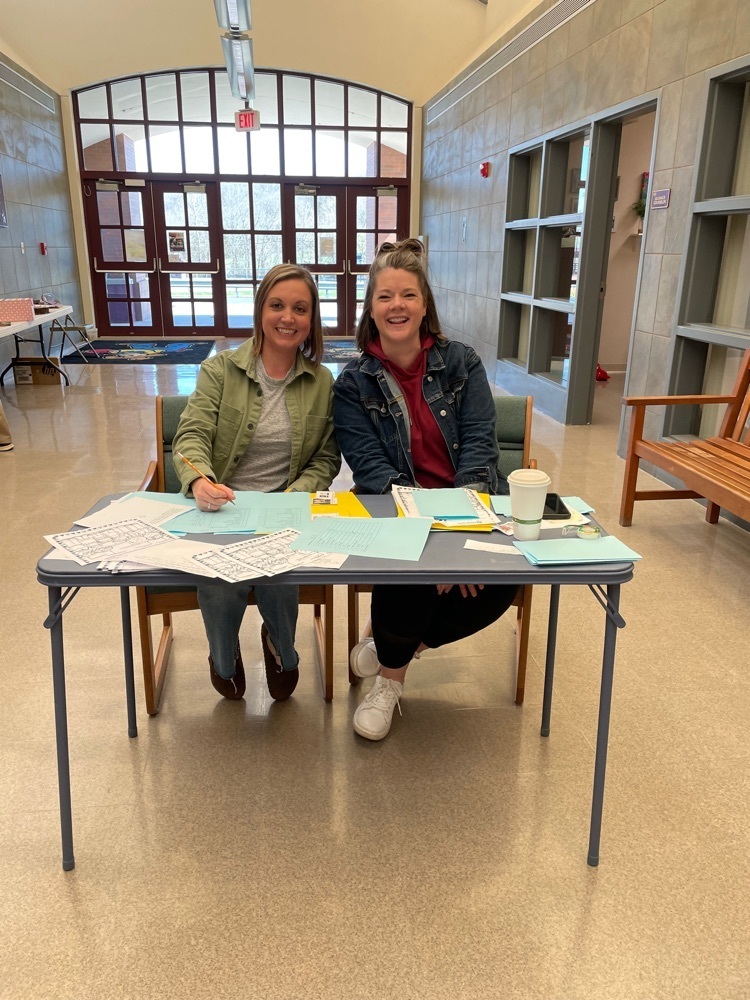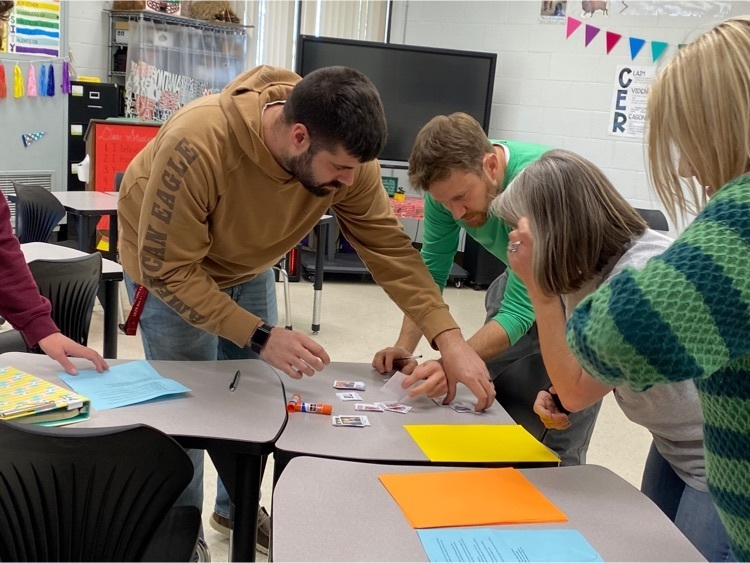 It's scholarship season! Students in Adult Living class are hard at work applying for scholarships with assistance from Mrs. Reiman and Mrs. Engelmann. Since adding Adult Living class in 2018, the amount of scholarship money awarded to Cobden students has increased exponentially. The average grew from $350,000 to $750,000 in scholarships awarded. We even hit one MILLION dollars in 2021! Students in Adult Living are also supported if they choose a trade, military or go straight to work! 💰

3/17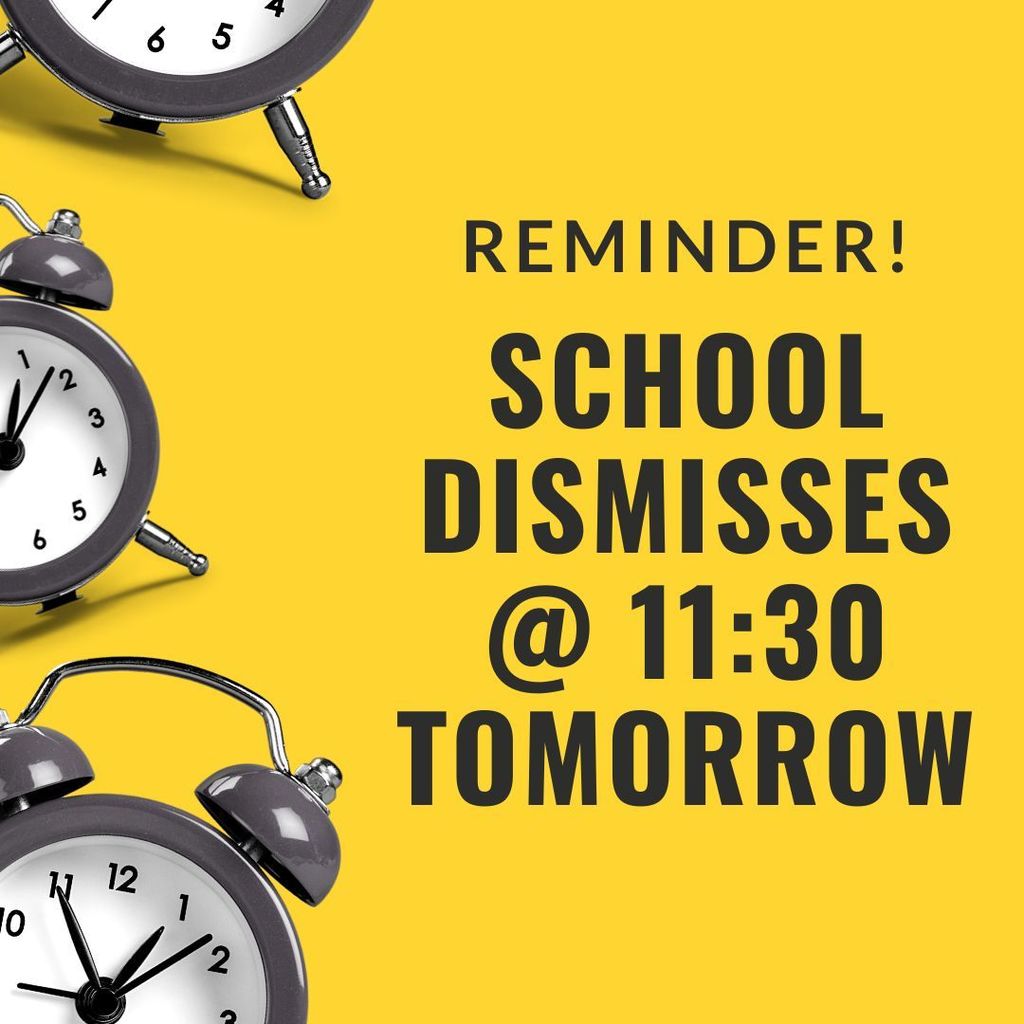 Math Team students competed at the ACES Sectional at SIUC today. The following students placed: Nick Sutliff: 1st Place Computer Fundamentals Sam Ingold: 1st Place Physics Emma Kilpatrick: 2nd Place Math Everyone had a blast bowling while waiting for scores to be tallied! Congratulations Appleknockers!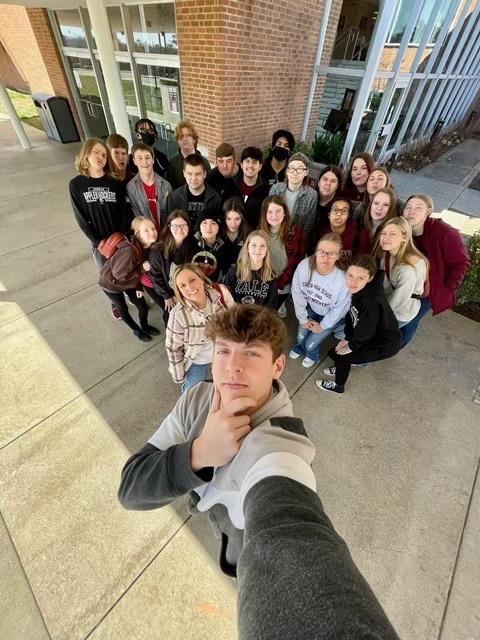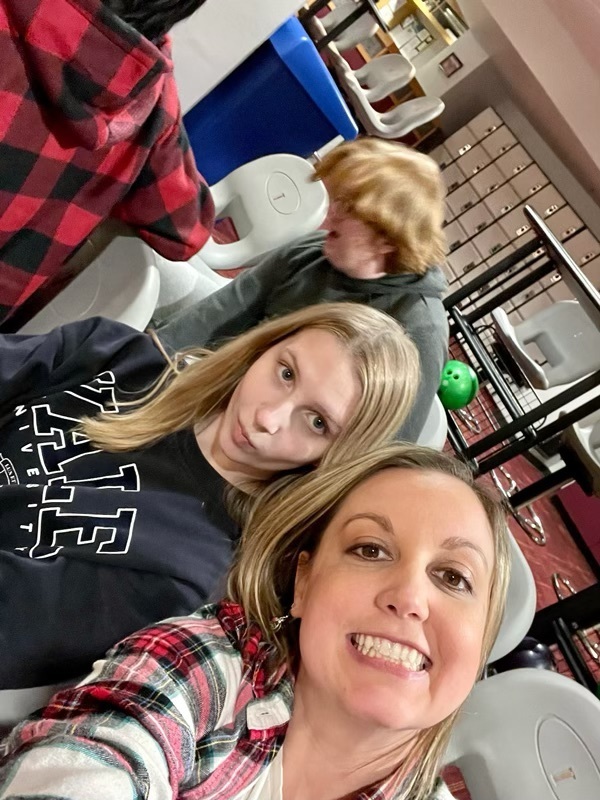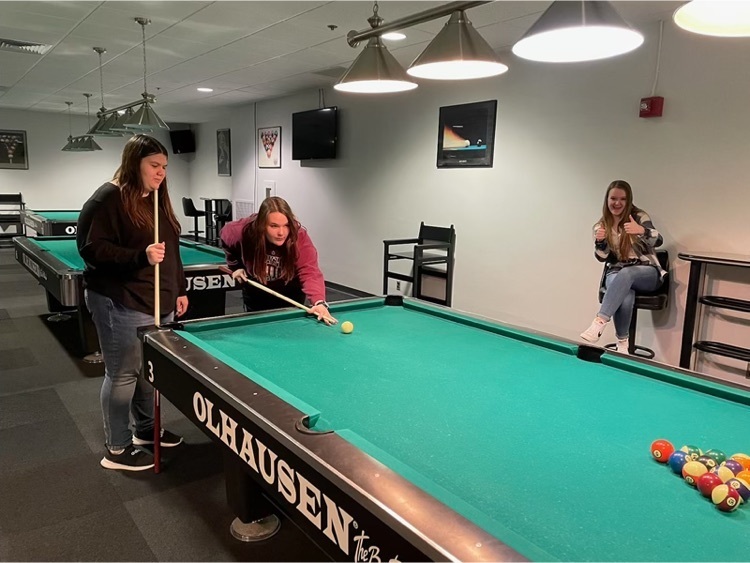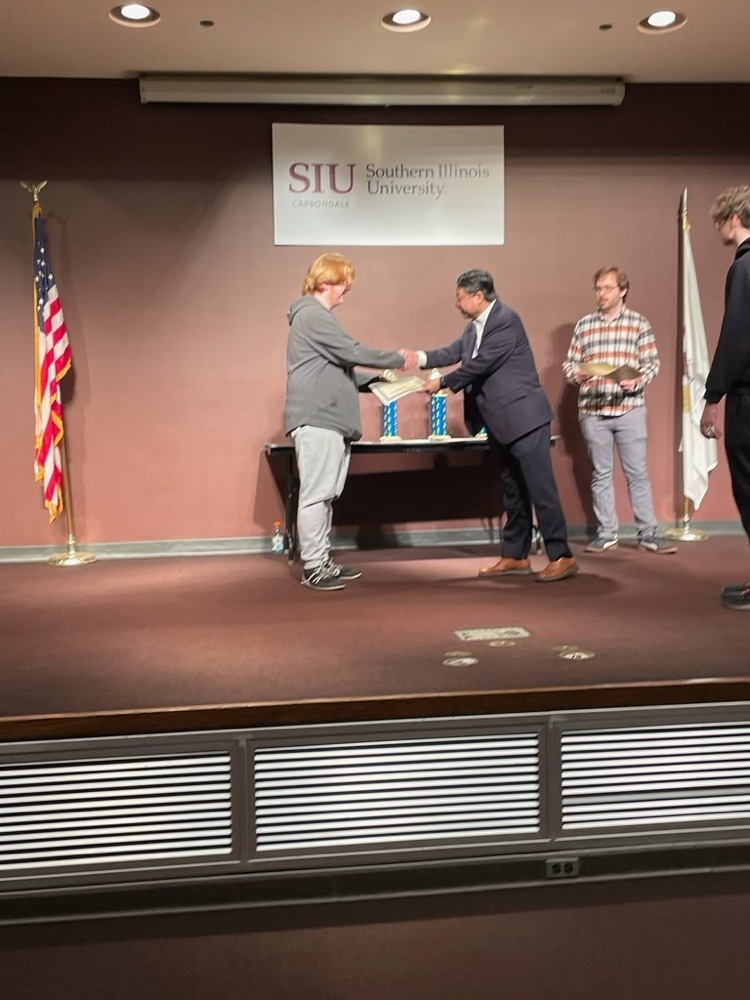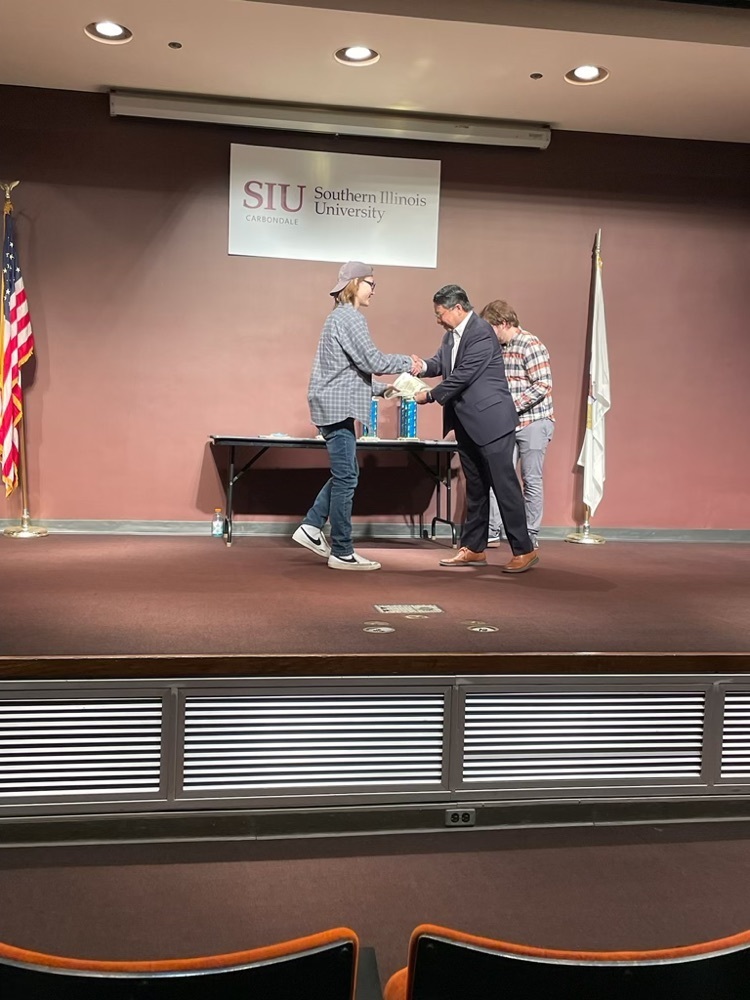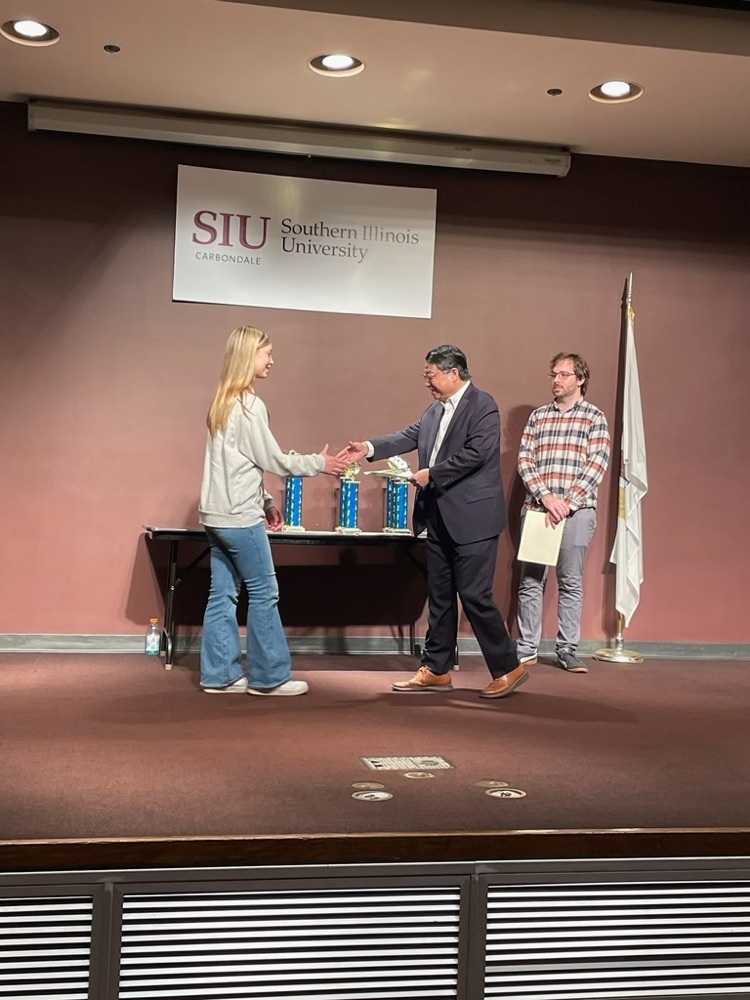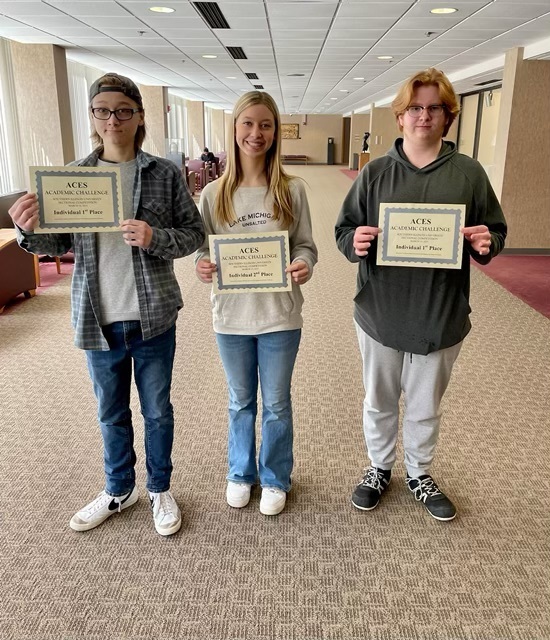 Makenzie Hilliard was selected as a Golden Apple Scholar. This is quite an honor as there were over 2,000 applicants in the state of Illinois! Makenzie is currently an Illinois state officer for Educators Rising and a Chancellors Scholarship recipient at SIUC where she plans to major in Early Childhood Education. Congratulations Makenzie! 🍎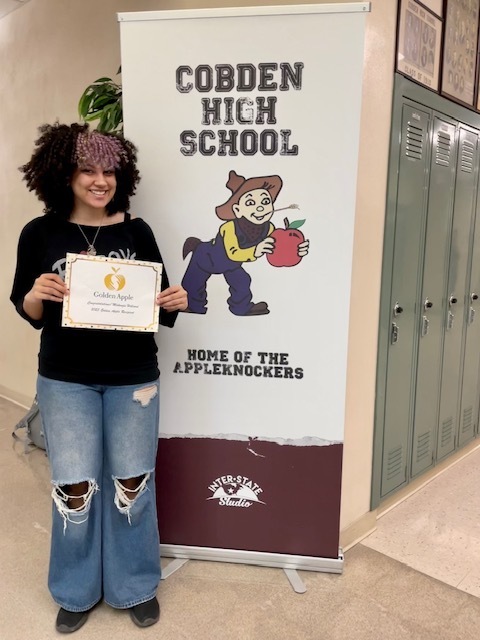 If you have any of these old yearbooks that we could borrow for a short time, please contact the office!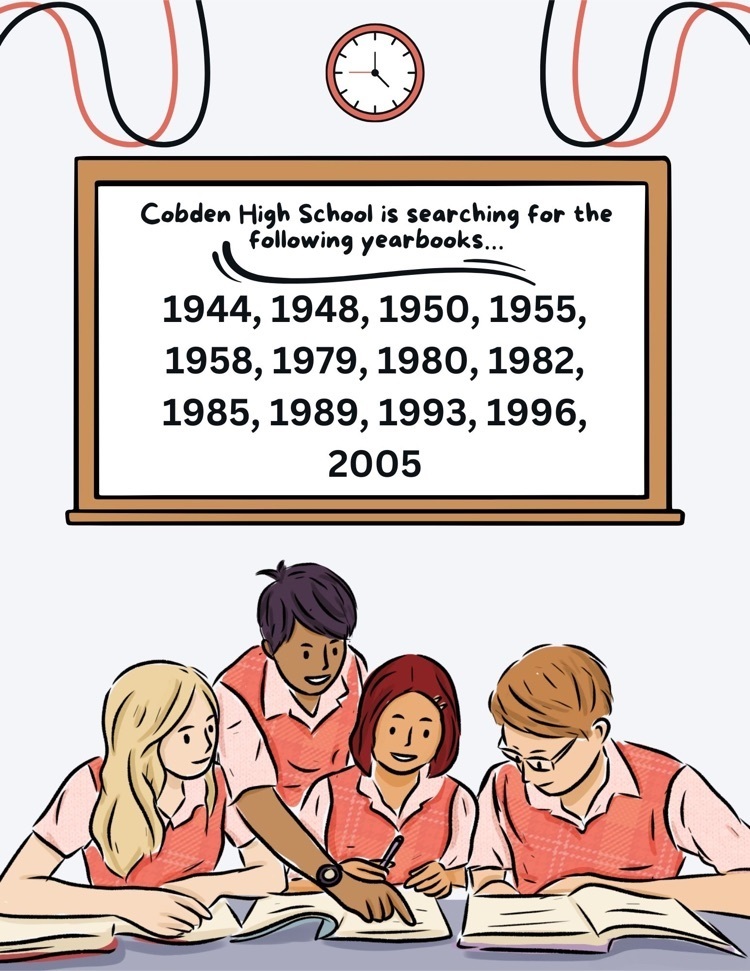 .

Introduction to Family and Consumer Sciences students have been learning about etiquette. Students practiced their skills this morning with an etiquette dinner. 🍝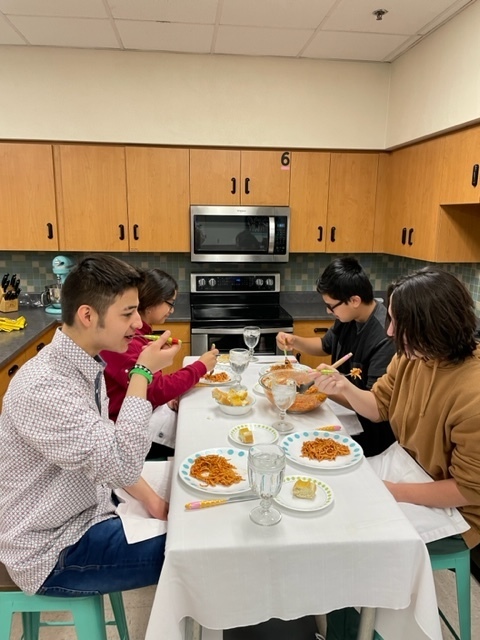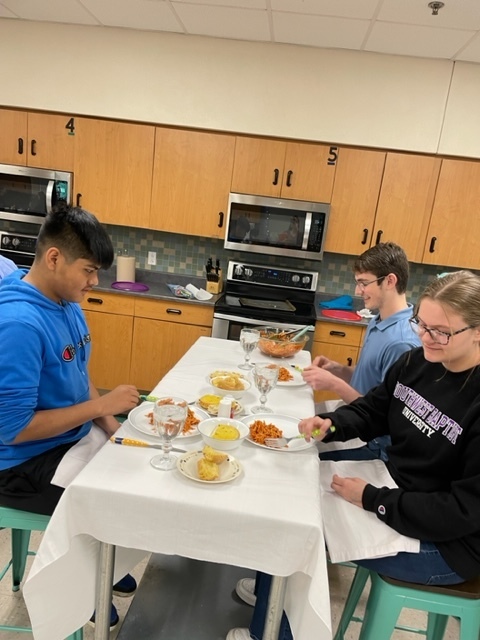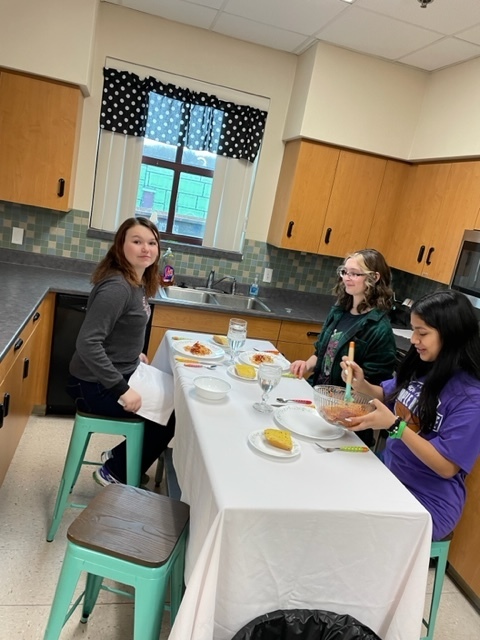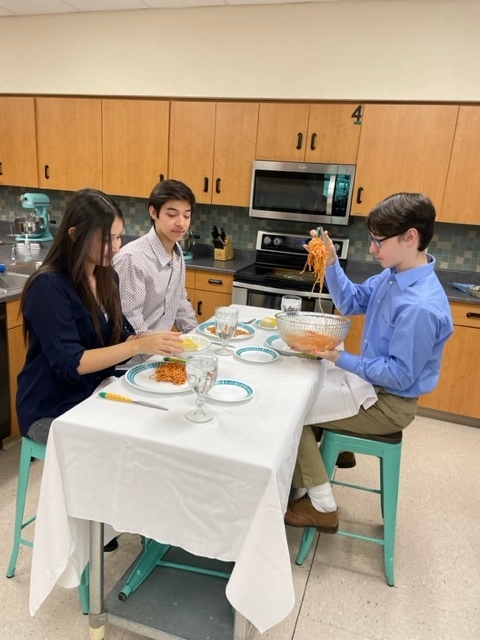 The Cobden FFA catalog is here! Please contact Mrs. LeFevre or an FFA member to order! Orders are due March 27th!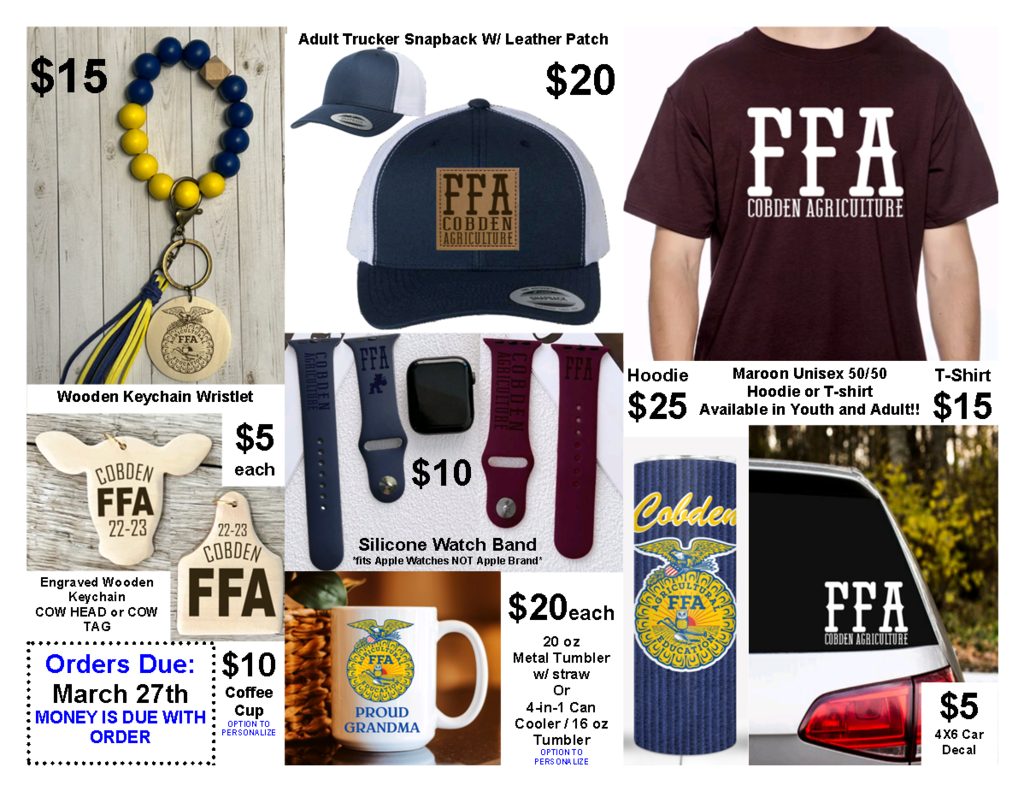 UPDATE FOR 3/13

Mrs. Bartolo, Mr. Crawford and the HS Art Club are working with Cobden MS students the month of March to celebrate "YAM", Youth Arts Month. This after-school art program is part of the Foreground Rural Arts Initiative grant through Illinois Humanities Council in partnership with Artspace 304, Carbondale.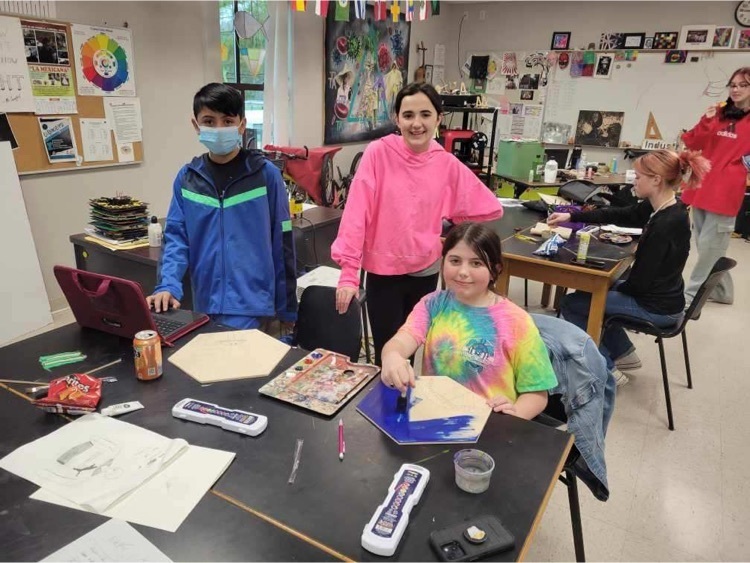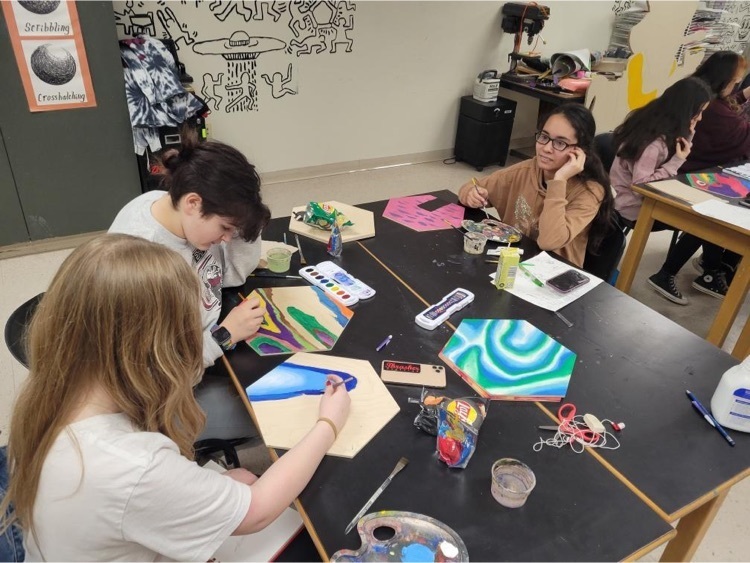 Open to all high school students, community members, and alumni!


***

FYI

Educators Rising members attended the Illinois Educators Rising Convention at Illinois State University today. State Public Relations Officer, Makenzie Hilliard helped lead the conference. The following students competed and did an excellent job! Children's Literature: Karleigh Ellis & Mary Pender, Makenzie Hilliard & Cresli Carrillo, and Allison Benefield & Rhylee Sauerbrunn Educators Rising Moment Speech: Sophie Lingle